If you want to find out where to find tasty rosé wine just ask charming ladies. Yes, rosé is still a predomantly female drink, but women can teach men usually over a longer period of time, what is good taste. Some men did not eat salad for a long time… now we have more man that eat just vegetarian food and still love to drink some good wine with it.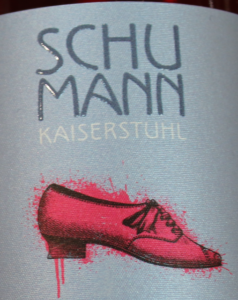 Well, Franziska Aatz and her friend persuaded us to seek a female winemaker, who has really an astonishing variety of rose wines. Her winery is located in the Baden region of Germany, which is in the south west and known for good quality wines, white, red or rosé.
For Bettina Schumann her last name meaning literaly "men of shoes" gave inspiration for a variety of label creations and different shoes. Mrs. Schumann is hooked to red shoes, as you can see on the label. Women will agree -it takes a variety of nice shoes having a nice life. And the same refers to wine. There is so much to discover.
We started out with a unfiltered rose wine called PETNAT.
Knowing about the orange wine hype in certain restaurants in Berlin it is easy to understand why a woman from the german capital is trying to produce some raw stuff in her new region.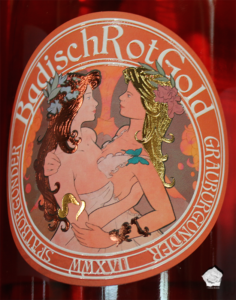 It is only some years ago that Schumann started from scratch with only a small amount of grapes. She first had a joint-venture with her former partner selling wine, before she decided to go her own way making wine.
We were very pleased to taste a glass of "BadischRotGold" – Red&Gold from Baden. This is a peticular name for a wine made of white and red grapes together. And only winemakers from Baden are allowed to claim their wine this way.
Those two sorts of grapes have to be harvested and put in the press together. Alike the production of rosé wine, the crushed grapes have only a short period of time before the skin is removed. Other regions of Germany have different names for this kind of wine.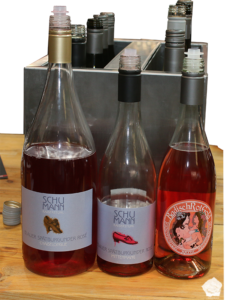 Finally we had a special creation Chaiselongue – the rose wine for relaxing. A special edition of reduced quantity of grapes, four days of maceration, no yeast added and finally fermented in the new barrique and filled without filtration on the MAGNUM BOTTLE.
If you are from the Netherlands you can buy the rosé wine "Chaiselongue" at Wine & Roses in Van Woustraat 163 in Amsterdam for 39,95 Euro.
More information you'll find on the Bettina Schumann Website.
http://rosewineguide.com/wp-content/uploads/2018/03/Rosewineguide_Icon10-1.png
0
0
Wolfram Mechelke
http://rosewineguide.com/wp-content/uploads/2018/03/Rosewineguide_Icon10-1.png
Wolfram Mechelke
2018-03-19 22:59:54
2018-03-20 10:53:51
Wine Queen of Baden knows where to find tasty rosé