Rosé from Italy is not that common in Germany. Germans predominantly love italian red wine as they have a great taste for Pasta and Pizza. Or they go for a pinot grigio. Even in restaurants you'll have sometimes a hard time to find a good wine especially if you ask for a Rosé.
So it is a surprise to run into a nice couple who offer you not only a Rosé from Italy, but an organic Rosé from Sicily.
This is quite unuasually as is the name of the winemaker – Gunther Di Giovanna, a german-italian who runs the business with his brother Klaus, now 5th generation owners of remarkable wineyards in the western part of Sicily.
Altogether the current property is about 100 hectares, 56 hectares vineyards, 23 hectares of olive trees, forest and wheat fields. The vineyards are organically certified since 1997.
The brothers cultivate vineyards in 4 different zones and altitudes, the oldest vineyard Gerbino was already planted by their great-grandfather Cristoforo Ciaccio in 1860 at an altitude from 420-480 meters above sea level. The other vineyards are on a higher level.
GERBINO is the brand name for the Rosé made from the native Sicilian grape Nero d'Avola kown for it's soft and sutle character along with a juicy fruit.
The Rosato is pale pink in the glass with fuscia tones, notes of rasberry and crushed cherry. It reveals scents of rose petals and reipe red barries. It's esay, pleasant drinking as it has a soft attack, a pleasant medium acidity and over all a good balance.
VURRIA is the brand for another Rosé made of another varietal typically sicilian. Nerello Mascalese has been planted by Aurelio Di Giovanna back in 1968 from an old vineyard near Randazzo and introduced to Sambuca die Silicia. This grape is known for it's expressive aromatics and spice.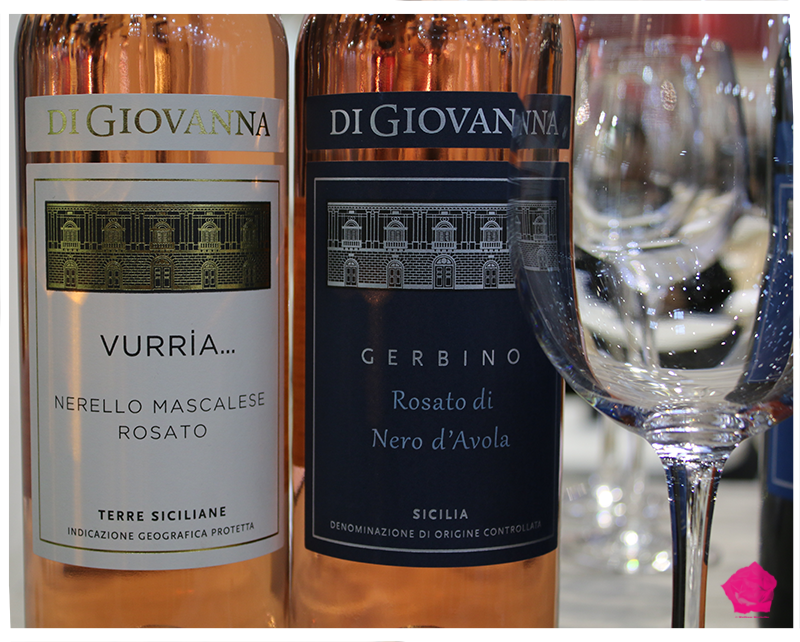 The winemakers suggest that the wine pairs wonderfully with shellfish, grilled white fish and pork. You could even try it with sushi or asian cuisine.
Even the family Di Giovanna  offers Wine Tourism and invits us to visit Sicily as their wine cellar is surrounded by the beautiful nature reserve of Monte Genuardo, you do not have to travel that far to get to get a good bottle of Rosé.
Di Giovanna wines are available as well out of Germany. Contact information is given below:
Italy
Di Giovanna s.r.l.
Corso Umberto I, 137
1-92017 Sambuca di Sicilia (AG)
Tel: +39 0925 1955675/ Fax: +39 0925 941086
Mobile: +39 320 6583904/ 3298355523
email: info@di-giovanna.com

Germany
Di Giovanna Barbara
Herrlinghausen, 73
D-42929 Wermelskirchen
Tel/Fax: +49 (0) 2196-8821733
email: info@di-giovanna.com
http://rosewineguide.com/wp-content/uploads/2018/03/Rosewineguide_Icon10-1.png
0
0
Wolfram Mechelke
http://rosewineguide.com/wp-content/uploads/2018/03/Rosewineguide_Icon10-1.png
Wolfram Mechelke
2018-03-20 23:24:18
2018-04-02 17:25:53
Rosé from Sicily by Azienda Agricola Biologica DI GIOVANNA